Stamps And Perforation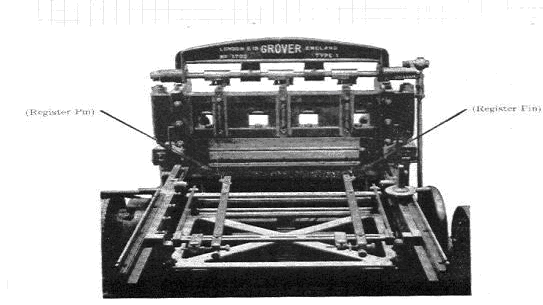 The feed table top has been removed to illustrate the register pins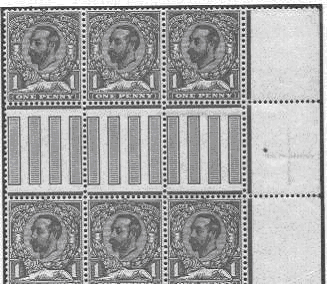 Register pin point in side margin
When continuous perforating of stamps produced in reels, instead of sheets, began, initially only at Somerset House for stamps in rolls, but more generally from 1924, only a single comb was used but from early 1928 a double comb was introduced. With the introduction by Harrison's of photogravure stamps in 1934 a triple comb was made for them containing 2340 pins, perforating two issue sheets, side by side, each of 240 stamps with a central margin one stamp wide. This constituted one cylinder impression, seven beats of three combs making up the two issue sheets, after which the sheets were split down the middle and side trimmed, then cross-guillotined into sheets and delivered to the back board. Triple combs were used for sheet stamps, booklets and end delivery rolls. A five comb perforator containing 3330 pins was made for sideways delivery rolls A four comb perforator was available but this was only ever used for Dutch stamps issued in rolls.
Examples of Master Plates

The first George V master plate. This was for sheet stamps with perforation from side to side. Made in 1911

The first George V booklet master plate. Made in 1912

The first double pane master plate made in 1928. This was for sideways delivery rolls. Later in the year a further double pane perforator was made for end delivery rolls
Because of the length of the original master plates, only a small part can be shown here.
« Return to page 1 of this articleContinue to page 3 of this article »