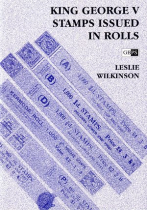 This is the website of Les Wilkinson, past stamp collector and president of the Great Britain Philatelic Society.
Les died in September 2015 - but this site remains live as a mark of respect, so philatelists can continue to enjoy the many articles he put together.
To access them, hover over the 'Articles' dropdown menu if you're viewing the site on a PC - or tap the navigation button on mobile devices.
Les also wrote a book - King George V Stamps Issued In Rolls - about which you can find more details on the GBPS website here.